Article Highlight | 5-May-2022
Researchers discover a gut microbiota that promotes fat development in lean pigs
KeAi Communications Co., Ltd.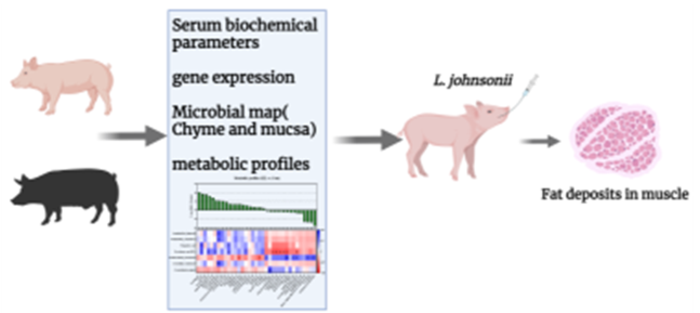 The Shaziling pig, a famous local fatty breed in China, is considered by the Chinese to produce better quality meat than lean pig breeds (e.g., Yorkshire, Landrace and Duroc), a fact that is generally attributed to the Shaziling's higher levels of intramuscular fat. However, few studies have explored the role of gut microbial development in helping the pigs to metabolise that fat.
Jie Yin, a Professor at the College of Animal Science and Technology at China's Hunan Agricultural University, set out to explore the link between the two. In a paper, published in the KeAi journal Animal Nutrition, he and his team explain how a comparison between the fat metabolic and gut microbial profiles of Shaziling pigs and the lean Yorkshire pig breed, led to them isolating a specific gut microbiota – Lactobacillus johnsonii – that can be used to increase the fat level and meat quality of lean pigs.
Prof. Yin explains: "Our study compared the Shaziling and Yorkshire breeds when they were 30, 60, 90, 150, 210 and 300 days of age. We found marked differences between the two breeds. For example, Shaziling pigs had a higher diversity and volume of probiotics. And we identified seven differentiated microbial species. Interestingly, these bacteria were found to be correlated to differentiated metabolites – the substance made or used when bodies break down food."
Lactobacillus johnsonii, a species of lactobacillus, was among the probiotics found in much higher levels in the gut of the Shaziling breed. Prof. Yin says: "It seemed to be associated with the Shaziling's ability to metabolise fat, so we isolated the bacteria from the fatty pigs and fed it to the Yorkshire pigs. To our surprise, we found that the amount of fat deposited in the Yorkshire pigs' muscle and their growing performance improved." He adds: "These results suggest that L. johnsonii has an important role to play in increasing the quality of the meat in the lean pig industry."
###
Contact the authors: Jie Yin, yinjie2014@126.com
The publisher KeAi was established by Elsevier and China Science Publishing & Media Ltd to unfold quality research globally. In 2013, our focus shifted to open access publishing. We now proudly publish more than 100 world-class, open access, English language journals, spanning all scientific disciplines. Many of these are titles we publish in partnership with prestigious societies and academic institutions, such as the National Natural Science Foundation of China (NSFC).
Disclaimer: AAAS and EurekAlert! are not responsible for the accuracy of news releases posted to EurekAlert! by contributing institutions or for the use of any information through the EurekAlert system.