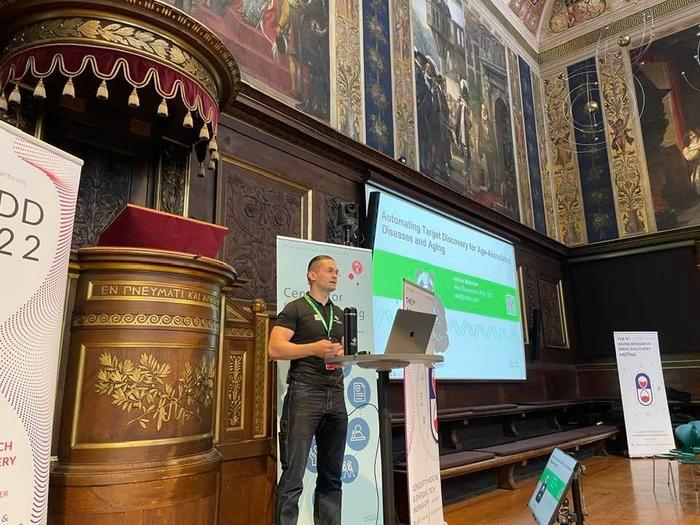 The Aging Research and Drug Discovery (ARDD) conference, being held at the University of Copenhagen Aug. 28-Sept. 1, is celebrating 10 years of convening top scientists, venture capitalists, business leaders, and journals engaged in aging research, medicine, and emerging technology.
The conference has grown significantly over its decade-long history. This year's event kicks off with Longevity Medicine Day which will include speakers like Evelyne Bischof, MD, an expert in internal medicine, oncology, and longevity from Renji Hospital, Shanghai; Michael Basson, Senior Editor of Nature Medicine; Thomas A. Rando, MD, PhD, Deputy Director of the Stanford Center on Longevity; and Michael Ringel, Managing Director and Senior Partner at BCG. Alex Zhavoronkov, PhD, founder and CEO of Insilico Medicine and one of the founders and co-chairs of the ARDD, is also a featured presenter.
"ARDD provides real value for the biopharmaceutical industry," says Alex Zhavoronkov, PhD. "This conference allows the pharmaceutical industry to actively engage in and incorporate the latest discoveries in credible aging research into every aspect of their internal R&D strategy."
Professor Morten Scheibye-Knudsen, MD, PhD, head of the Biology of Aging laboratory at the University of Copenhagen and executive chair of ARDD says: "We are extremely humbled, honored and excited that so many amazing speakers will join our meeting onsite at the University of Copenhagen. This year we maintain our focus on young scientists who will be the future of our field and we have a large amount of speaker slots for these rising stars."
The conference will involve presentations on a number of breakthrough innovations and new technologies in aging research, including advanced biological techniques for rejuvenation therapies, machine learning and quantum computing in drug discovery; aging clocks; and a presentation on Pharma.AI, Insilico Medicine's commercially available generative AI platform for end-to-end drug discovery presented by Petrina Kamya, PhD, Head of AI Platforms at Insilico Medicine and Fran Pun, PhD, Head of Insilico's Hong Kong office.
Based on the adoption of its AI platforms and collaborations, Insilico Medicine estimates that approximately 40% of large pharmaceutical companies have initiated exploratory research projects in aging research. Some of these projects have already transitioned into the early-stage therapeutic discovery programs.
This year's conference will again support Student Ambassadors, pairing teenage researchers interested in aging and drug discovery with expert mentors and conference registration. Two ARDD student ambassadors, Andrea Olsen and Zachary Harpaz, went on to publish their findings using Insilico's AI platform to discover glioblastoma targets in the journal Aging, and together founded the Youth Longevity Association.
"I am truly impressed by the commitment of these young researchers," says Dr. Zhavoronkov. "I hope their work will inspire other young people excited about science and technology to look at how they can use AI tools to discover new targets and treatments for both aging and disease."
Details and registration: http://www.agingpharma.org
For further information, images or interviews, please contact: ardd@insilico.com
About Insilico Medicine
Insilico Medicine, a clinical-stage end-to-end artificial intelligence (AI)-driven drug discovery company, connects biology, chemistry, and clinical trials analysis using next-generation AI systems. The company has developed AI platforms that utilize deep generative models, reinforcement learning, transformers, and other modern machine learning techniques to discover novel targets and to design novel molecular structures with desired properties. Insilico Medicine delivers breakthrough solutions to discover and develop innovative drugs for cancer, fibrosis, immunity, central nervous system (CNS), and aging-related diseases.
For more information, visit www.insilico.com
---