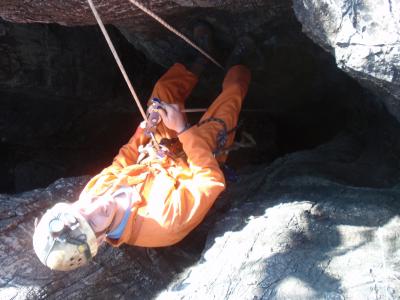 This press release is available in Afrikaans, Arabic, Chinese, French, Japanese and Spanish.
Two partial skeletons unearthed from a cave in South Africa belong to a previously unclassified species of hominid that is now shedding new light on the evolution of our own species, Homo sapiens, researchers say. The newly documented species, called Australopithecus sediba, was an upright walker that shared many physical traits with the earliest known Homo species—and its introduction into the fossil record might answer some key questions about what it means to be human.
The fossils are between 1.95 and 1.78 million years old, and in this week's issue of Science, the peer-reviewed journal published by AAAS, the nonprofit science society, two reports describe both the physical characteristics of this new Australopithecus species as well as the ancient environment in which it lived and died. The emerging picture is one of a hominid with a bone structure similar to the earliest Homo species, but who employed it more as an Australopithecus, like the famed "Lucy," would have.
These new fossils, however, represent a hominid that appeared approximately one million years later than Lucy, and their features imply that the transition from earlier hominids to the Homo genus occurred in very slow stages, with various Homo-like species emerging first.
"It is not possible to establish the precise phylogenetic position of Australopithecus sediba in relation to various species assigned to early Homo," wrote Lee Berger, a lead author of one of the Science reports. "We can conclude that… this new species shares more derived features with early Homo than any other known australopith species, and thus represents a candidate ancestor for the genus, or a sister group to a close ancestor that persisted for some time after the first appearance of Homo."
Many scientists believe that the human genus Homo evolved from Australopithecus a little more than two million years ago—but the origin has been widely debated, with other experts proposing an evolution from the Kenyanthropus genus. This new Australopithecus sediba species might eventually clear up that debate, and help to reveal our direct human ancestors.
"Before this discovery, you could pretty much fit the entire record of fossils that are candidates for the origin of the genus Homo from this time period onto a small table. But, with the discovery of Australopithecus sediba and the wealth of fossils we've recovered—and are recovering—that has changed dramatically," Berger said.
The name itself, "sediba," means "fountain" or "wellspring" in the seSotho language, spoken in South Africa, and indeed, researchers do believe that the new fossils will provide a wealth of information about our human origins.
For now, these new hominid fossils make it clear that the evolutionary transition from small-bodied, and perhaps more tree-dwelling, ancestors to larger-bodied, full-striding bipeds occurred in gradual steps.
Berger, from the University of Witwatersrand in South Africa, along with Paul Dirks from James Cook University in Australia began a study on the distribution of cave deposits in the Cradle of Humankind—a World Heritage Site, set aside for its physical and cultural significance—in January 2008. Months later, Berger discovered the two partial skeletons in cave deposits at Malapa, South Africa, and analyzed the remains, including most of a skull, pelvis, and ankle of the new species with colleagues from the U.S., Switzerland, and Australia.
The two Australopithecus sediba—an adult female and a juvenile male—were found close together in a portion of the cave system that had been protected from scavengers, so the fossils are very well-preserved. The researchers describe the hominid's physical traits, highlighting the unique pelvic features and small teeth that it shared with early Homo species. Based on its physique, they suggest that the new species descended from Australopithecus africanus, and that the hominid's appearance signified the dawn of more energy-efficient walking and running.
"These fossils give us an extraordinarily detailed look into a new chapter of human evolution, and provide a window into a critical period when hominids made the committed change from dependency on life in the trees to life on the ground," said Berger. "Australopithecus sediba appears to present a mosaic of features demonstrating an animal comfortable in both worlds."
In a separate report published in Science, Paul Dirks and colleagues from around the world analyze the Malapa cave system, date the fossil deposits, and describe the geological and ecological environment that Australopithecus sediba would have dwelled in long ago.
"We think the environment sediba lived in was, in many ways, similar to the environment today," Dirks said. "For example, one with predominantly grassy plains, transected by more vegetated, wooded valleys. However, the rivers flowed in different directions and the landscape was not static, but changed all the time."
The caves at Malapa are not randomly distributed, but occur along fracture zones that criss-cross the landscape. They consist of mostly quartz, chert, dolomite, and peloids—though there are also iron-oxide coated grains, ooids, shale, and feldspar in the rocks.
"The fossils occur together in a near-articulated state in the sedimentary remains of a deeply eroded cave system," Dirks continued. "They were laid down by a single debris flow, indicating the timing of their deaths were closely related and occurred shortly before the debris flow carried them to their place of burial."
The researchers identified the fossils of at least 25 other species of animals, including saber-toothed cats, a wildcat, a brown hyena, a wild dog, antelopes, and a horse in the cave as well. They suggest that the Malapa caves were tens of meters deep when the Australopithecus sediba fossils were deposited—and also propose that the cave dwelling could have acted as a death trap for animals seeking water.
"One possible explanation for their entry into the cave could have been that they needed water," said Dirks. "To explain the fossil assemblage and their well-preserved state, we would speculate that perhaps at the time of their death, the area in which sediba lived experienced a severe drought… Animals may have smelled the water, ventured in too deep, fallen down hidden shafts in the pitch dark, or got lost and died."
###
The American Association for the Advancement of Science (AAAS) is the world's largest general scientific society, and publisher of the journal, Science (www.sciencemag.org) as well as Science Translational Medicine (www.sciencetranslationalmedicine.org) and Science Signaling (www.sciencesignaling.org). AAAS was founded in 1848, and includes some 262 affiliated societies and academies of science, serving 10 million individuals. Science has the largest paid circulation of any peer-reviewed general science journal in the world, with an estimated total readership of 1 million. The non-profit AAAS (www.aaas.org) is open to all and fulfills its mission to "advance science and serve society" through initiatives in science policy; international programs; science education; and more. For the latest research news, log onto EurekAlert!, www.eurekalert.org, the premier science-news Web site, a service of AAAS.
---